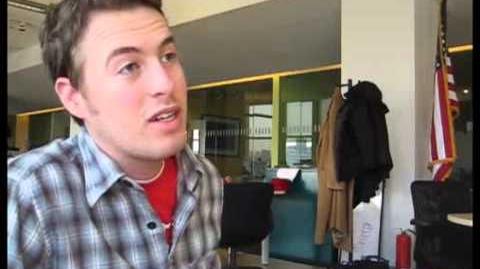 [Jake walks into an empty office, Amir is sitting at his desk eating crisps. 'Every Morning' by Sugar Ray is playing throughout the office]
Jake: What's going on?
Amir: [eating and laughing stupidly]
Jake: It's 9:30 where is everbody?
Amir: B-b-b-b-b-bomb threat
Jake: Oh God, what are you talking about?
Amir: [singing] Bomb threat, bomb threat, bomb threat, bomb... bomb threat
Jake: Just stop, explain it
Amir: Maybe you should check your email, I believe you have something from an anonymous stranger about a bomb in ze build-ong
Jake: Okay, I have an email from you, and you signed it anonymous
Amir: [mouthful of crisps] Same thing
Jake: It's very much not the same thing
Amir: Well, now that you're here, you have no choice but to go get frozen yogurts with me
Jake: I have lots of choices: one of which is to call Ricky and get you fired
Amir: Next Choice
Jake: You know actually I think that's pretty much it, what did you expect?
Amir: I mean relax, we're here. Nobody else is, we could do anything we want; haven't you ever wanted to work naked?
Jake: No, I don't wanna get naked
Amir: [cut to Amir naked at his desk] Okay, me neither
Jake: [gets up] You know what, I'm gonna go home like everybody else
Amir: Jake!