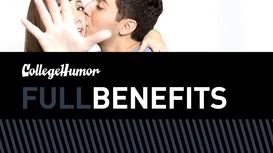 Full Benefits is a CollegeHumor show revolving around the office relationship of Sarah Schneider and David Young. Taking place within the CollegeHumor universe, characters from Jake and Amir as well was Hardly Working make appearances. The series lasted 15 episodes airing during 2010-11.
Picture
Episode Title
Original Airdate
Length
The Hook Up
October 4, 2010
2:55
Sarah and David complicate their work relationship.
Ditching Dan
October 11, 2010
2:56
Sarah and David deal with the worst kind of co-worker: a friendly one.
The Cover-Up
October 18, 2010
2:42
Sarah and David throw their co-workers off the scent.
The Reveal
October 25, 2010
3:34
Sarah and David take their relationship public... or do they?
The Party
November 1, 2010
4:06
Sarah and David decide what they are: drunk
Picture
Episode Title
Original Airdate
Length
The Decision
November 22, 2010
3:41
Sarah and David face their biggest fear: Steve from HR
The Rumor
November 29, 2010
3:32
Sarah and David deal with some extremely accurate office gossip.
The Double Date
December 6, 2010
3:44
Sarah and David's relationship reach new heights of awkwardness.
The Late Night
December 13, 2010
2:56
Sarah and David work hard to keep it professional.
The Dinner Party
December 20, 2010
2:17
Sarah and David realize what they want, and it's not the same thing.
Picture
Episode Title
Original Airdate
Length
The Run-In
June 1, 2011
4:36
Sarah and David catch up over some ketchup.
The Break-Up
June 8, 2011
3:38
Sarah and David meet in the storage room, and relax, not like that. There are other people there.
Inside Jokes
June 15, 2011
2:53
Sarah and David are friends, right? RIGHT?
The Kiss
June 22, 2011
4:34
Sarah and David realize the sobering truth behind their first hook-up.
The Next Step
June 27, 2011
2:52
Sarah and David meet secretly to talk, amongst other things.
Ad blocker interference detected!
Wikia is a free-to-use site that makes money from advertising. We have a modified experience for viewers using ad blockers

Wikia is not accessible if you've made further modifications. Remove the custom ad blocker rule(s) and the page will load as expected.