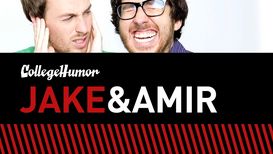 Jake and Amir is an internet based show on the comedy website, CollegeHumor.com. It stars two CollegeHumor writers, Jake Hurwitz and Amir Blumenfeld. Some of the other characters in the show are also workers at the website.
The basic plotline of the series is that Amir wants to be Jake's best friend and all Jake wants to do is be a normal guy. Amir is extremely annoying and pretty stupid by not knowing thing such as basic math and life skills.
Related pages
Edit
Ad blocker interference detected!
Wikia is a free-to-use site that makes money from advertising. We have a modified experience for viewers using ad blockers

Wikia is not accessible if you've made further modifications. Remove the custom ad blocker rule(s) and the page will load as expected.